#1 >>>

Download Free Piano Chord Chart eBook
For your convenience I have created a Black&White, Printer friendly, Easy-to-use Piano Chord Chart e-book. The e-book is FREE and yours to keep forever. Your new Piano Chord Chart e-book is ready and waiting for you to download right here on this page.
In my Piano Chord Chart e-book you will quickly and easily be able to find the most used 3- and 4 note chords for pop, rock, soul, R&B, country and more…
The book contains charts for all 12 keys – major, minor, augmented, diminished, 7'th. and more…
>>>>Download FREE Piano Chord Chart ebook HERE!<<<<
BUT listen up!
Before you download your Piano Chord Chart e-book let me offer you, not a little advice, but a GREAT piece of advice…….
Learn how to do Chord Inversions – of ANY chord……really…..!
Like most other Piano Chord Chart books my book will show you all the chords in ROOT position. This means that all the chords shown are build on the root note – root note at the bottom – the next notes build on top of it.
However – learning to play piano chords at their root position is only part of the game!!
If you want to improve your chord understanding and keyboard skills you REALLY need to learn how to invert your chords. Once you master this simple art you will be able to play a chord progression without having to move your hands all over the keyboard to play the individual chords.
And by the way – any recording of any song/tune in the world will consist of chord inversions. Why? Because using inversions sounds more natural – and using just the root inversion for all your chords will truly make you sound like an amateur – and we don't want that – right?
#2 >>>

Get my FREE Chord Inversion Crash-Course – like NOW……
So, if you want to learn the easy skill of piano chord inversion – and you want to get the most out of your new book I urge you to go through my 10 minutes crash-course:
"Understand how to invert any keyboard chord"
Believe it or not – my chord inversion crash-course IS ALSO FREE. Just enter your info in the box and I will send the course directly to your email inbox. (Remember to check you spam-folder if you can't find it at first)
Amazingly the free stuff doesn't stop here. Once you have signed up in the box – I will ALSO send you:
#3 >>>

My FREE Chord Symbols Chart……
Learn the simple secrets to understanding all the symbols, numbers and strange signs of both simple and advanced Chord Symbols. What does "maj7", m7(b9), dim & (#11) mean…and how do you play it on your piano or keyboard? Easy-to-read PDF. Print it and hang it above your piano…..
…..Now, that's a lot of FREE QUALITY stuff I'm throwing at you here….and maybe I should stop handing you gold for free….but I don't wanna stop…SO, I'LL ALSO SEND YOU:
#4 >>>

My FREE Chord Video Lessons straight to your inbox…every 3rd. day or so……
I want to make you a master at playing chords on your piano. Therefore I will send you my entire video-series on how to play and make inversions of ALL MAJOR & MINOR 3-note chords (Triads). I will send you a new video every 3 days – or so. This way you can learn every 3-note major and minor chord – in the world…
– there you have it. Tons of great stuff for FREE………
Sign up in the box and I will immediately send you:
*Your FREE B&W, printer friendly, easy-to-use Piano Chord Chart e-book
*Your FREE Chord Inversion Crash-course
*Your FREE Chord Symbols Chart
*Your first FREE easy-to follow Piano Chord Video Lesson (and a new lesson every 3rd. day or so…)
Thank you for stopping by at PianoChordCharts.net
Enjoy your free stuff. Remember to bookmark this page so you can find it again later!
Now go play some chords – yeah…….
Niels Andersen at PianoChordCharts.net
Takin' it to the streets. Play your music anywhere with a melodica!
Best value. Recommended by PianoChordCharts.net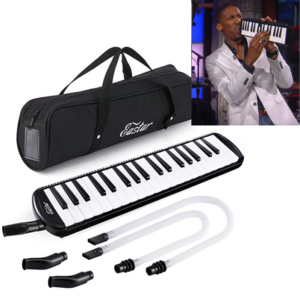 Piano Keyboard Stickers
Full Set. Removable!
Best Quality. Recommended by PianoChordCharts.net